All machines require parts and service. Sometimes sooner than later. Whether its pickup shoes, light bulbs, or traction tires we stock hundreds of Marklin spare parts at very reasonable prices. If we donít have it we do our best to get it!

Not confident in tackling your service needs on your own? Our Marklin service experts are ready to do it for you also at very reasonable prices.
Thinking of converting some older Marklin locomotives to Digital? No problem! We have many years of experience in the art of Marklin conversion and can convert almost any Marklin locomotive to digital using Marklin factory approved conversion kits.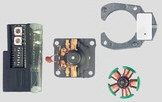 Why not add a new dimension to your Marklin layout with real locomotive operating sounds for your digital locomotives? We have kits for that too!

Whether you are across town, country, or the world send us your tired Marklin trains and we will get them up and running in no time.
We are so confident in our repairs we offer a 12 month limited parts and labour warranty on all of our repairs so next time give us a try. Youíll be glad you did!
Please deliver all repair items to:
Westend Trains Inc.
17 Arnold St.
Toronto, Ontario
Canada M8Z 5A5
Please forward enquiries to:
Tel: 416.251.6124
Fax: 416.251.1637
E-Mail: westendtrains1@bellnet.ca