29301 My World Premium 2 Train Starter Set - High Speed Passenger ICE and Modern Freight.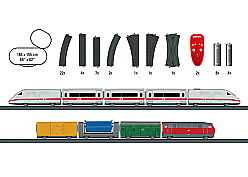 Model: Both trains have battery drives and magnet couplers between the individual cars. Both trains have a permanently coupled unit consisting of a powered end car or diesel locomotive and a battery car. Both trains each have 3 speed levels forward and reverse, 3 sound functions, and triple headlights. ICE length 61.0 cm / 24". Freight train length 47.5 cm / 18-11/16". Contents: The set has 22 sections of R1 curved plastic track, 7 sections of straight plastic track (length 171.7 mm / 6-3/4"), 4 sections of straight plastic track (length 188.3 mm / 7-13/32"), 2 sections of curved plastic track (turnout curve), 1 left turnout, 1 right turnout, and 1 crossing. An easy-to-use, wireless infrared controller is included for each train. 8 each AA and 4 each AAA batteries as well as loads for the freight cars are included with this set. This set can be expanded with the 23300 plastic track extension set and other My World accessory items such as crossing gates and station platforms.
Highlights:
Double the fun for 2 and extended play experience.

Battery operated trains with light and sound functions.

Coupling cars easy as child's play with the use of magnet couplers.

Very suitable toy trains for children ages 3 and above.

Sturdy plastic track designed for children for quick setup and takedown even on the floor.

Batteries included with the set.