29452 "Container Transport" Starter Set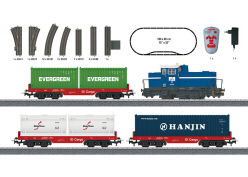 Model: The locomotive has an mfx digital decoder and factory-installed sound functions that can be controlled. 1 axle powered. Traction tires. The triple headlights change over with the direction of travel, will work in conventional operation, and can be controlled digitally. There is a blinking light on the cab roof. The locomotive has coupler hooks. The 3 container transport cars are loaded with different types of containers (20 ft. container, 40 ft. container, and 20 ft. tank container). All of the cars have Relex couplers. All of the containers can be removed from the cars and can be opened for loading. Train length 59.2 cm / 23-5/16". Contents: 12 no. 24130 curved track, 4 no. 24188 straight track, 1 base station, 7 no. 24172 straight track, 2 no. 24224 curved track, and 1 no. 24611 left turnout and 1 no. 24612 right turnout. A switched mode power pack and an infrared controller are included. This set can be expanded with the C Track extension sets and with the entire C Track program.
Highlights:
Digital IR controller for control of up to 4 trains.
Freedom of movement around the layout with the wireless IR controller.
Easy-to-set-up C Track layout.