29247 "Branch Line Freight" Starter Set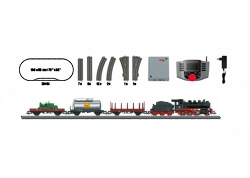 Prototype: German Federal Railroad (DB) class 24 passenger steam locomotive with a tender. Version with Witte smoke deflectors. 1 stake car, 1 "Shell" tank car, and 1 low side car with a load, all lettered for the German Federal Railroad.
Model: The locomotive has an mfx digital decoder and extensive sound functions. It also has a special motor, mounted in the boiler. 3 axles powered. Traction tires. The boiler is constructed of metal. The triple headlights change over with the direction of travel, will work in conventional operation, and can be controlled digitally. Warm white LEDs are used for the lighting. The smoke unit contact is on continuously. A removable model of a bulldozer is included. The locomotive and cars have close couplers.
Train length 53.9 cm / 21-1/4".Contents: 12 no. 24130 curved track, 5 no. 24188 straight track, 7 no. 24172 straight track, 2 no. 24224 curved track, and 1 pair of 24611 and 24612 turnouts. Also included are a track connector box, a 110 volt / 36 VA switched mode power pack, and a Mobile Station with a locomotive card. An illustrated instruction book with many tips and ideas comes with the set. This set can be expanded with the C Track extension sets and with the entire C Track program.
Highlights:
Locomotive with a built-in mfx decoder and a wide variety of sound functions included.
Automatic registration of the Mobile Station by the built-in mfx decoder.
Easy-to-set-up C Track layout.
This set can be expanded with the C Track extension sets and the entire C Track program.