29183 "Construction Site" Starter Set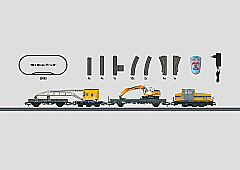 The locomotive has a digital decoder and a special motor. 1 axle powered. Traction tires. The locomotive has triple headlights that change with the direction of travel, will work in conventional operation, and can be controlled digitally. The crane car has a cab that can be rotated, a boom that can be moved, and a hand crank for the crane line. The boom car has a support for the boom. The low side car has a metal model of a power shovel. All of the cars have Relex couplers. Train length 48 cm / 18-7/8". Contents: 12 no. 24130 curved track, 4 no. 24188 straight track, 1 base station, 7 no. 24172 straight track, 2 no. 24224 curved track, 1 no. 24612 right turnout and 1 no. 24611 left turnout. Switched mode power pack and a wireless infrared controller. This set can be expanded with the C Track extension sets and with the entire C Track program. The 74491 turnout mechanism can be installed in the turnouts.
Highlights:
Construction train includes a locomotive, crane car, and a removable power shovel.
Locomotive has headlights.
Easy movement around the layout with the wireless infrared controller.
The 78083 theme extension set makes a prototypically realistic addition to this train.