29140 "My Start with Marklin" Starter Set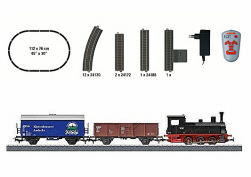 Prototype: Tank locomotive, high side gondola car, and a refrigerator car.
Model: The tank locomotive has a digital decoder and a special motor. 1 axle powered. Traction tires. The dual headlights change over with the direction of travel, will work in conventional operation, and can be controlled digitally. The locomotive has coupler hooks. This set has 1 high side car and 1 refrigerator car, each with Relex couplers. Train length 34.0 cm / 13-3/8". Contents: 12 no. 24130 curved track, 2 no. 24172 straight track, 1 no. 24188 straight track, 1 base station, 1 switched mode power pack, and a wireless infrared controller. This set can be expanded with the C Track extension sets and with the entire C Track program.
Highlights:
Digital IR controller for control of up to 4 trains.
Freedom of movement around the layout with the wireless IR controller.
Easy-to-set-up C Track layout.